Get an instant price quote here or phone to book your Auckland Airport car rental on 0800 35 45 10.
Visiting Auckland for business or travel?
Explore this fantastic location on the North Island of New Zealand and save money on quality transportation with a Pegasus Auckland Airport car rental. Enjoy affordable daily car hire rates, spacious vehicles and flexible travel times with a rental car from our fuel-efficient fleet.
Our New Zealand team has cared for customers with safety and efficiency for over 30 years across all Pegasus locations. In addition, due to popular demand, we provide a free pick-up service for each car hire booking from hotels and motels close to the Airport.
Rent a car from our Auckland Airport branch today for your desired rental time. Relax as our friendly staff collect you in a high-quality, well-maintained vehicle from the arrivals area on the ground floor of the Auckland Airport Domestic terminal or International terminal. Organise a transfer between 8 am and 5 pm, Monday to Sunday, to collect your rental car from our depot. For any flight arrival time outside usual business hours, we can help you make arrangements to collect your rental car from our Auckland Airport branch.
To arrange your complimentary shuttle bus, call toll-free at 0800 354 510, email us, or add your flight arrival time to the comments box when you book Auckland Airport rental cars online.
Our car range for hire
Our Auckland Airport car hire fleet consists of late-model, fuel-efficient, and well-maintained vehicles to suit your budget. We provide modern compact sedans perfect for business travel. For larger groups such as sports clubs and school groups, then check out our roomy eight-seater MPVs, hatchbacks, economical SUVs, and generous 8 and 11-seater vans.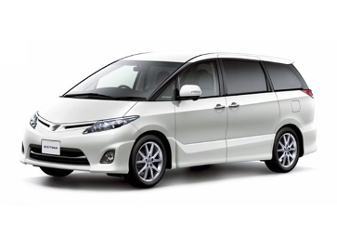 You'll enjoy unlimited kilometres on every rental car. Add a lockable luggage trailer to your 11-seater van hire to transport heavier or additional gear.
Easily rent children's safety seats, snow chains, roof racks or GPS equipment when you book your rental car at Auckland Airport. We also offer comprehensive car rental insurance and windscreen insurance on all each hire car from Auckland Airport.  Choose from optional insurance extras: Excess Reduction or Zero Excess.
Visit our booking page and enter your pick-up and drop-off location and hire period to discover our vehicle availability. Search for the vehicle type that suits your needs and receive an instant quote!
How to find us – directions to Pegasus Auckland Airport
Our location for car rental at Auckland Airport is 3 Kingsford Smith Place, Airport Oaks (off Richard Pearse Drive). We're an easy 5-minute drive from the Auckland International Airport. The process for arranging collection from the international or domestic terminal is simple. When you book your hire car, add your airport terminal and ETA to the comments box or advise our friendly staff members via phone or email. On arrival, call us toll-free on 0800 80 35 80, and we will dispatch the shuttle to collect you from the ground floor outside the terminal building (during office hours).
Contact details for car hire Auckland Airport
Our friendly team is ready to answer all your questions—from our pick up service policies to car hire FAQs.  Phone us during our office hours from Monday to Sunday, between 8 am – 5 pm on (09) 275 3222 or toll-free on 0800 35 45 10. Or email us at reservations@rentalcars.co.nz
Explore driving destinations in Auckland and beyond
Here at Pegasus, we want to give you peace of mind when you're driving our rental cars around Auckland and other nearby locations. For the entire rental period, we provide roadside assistance 24/7, New Zealand-wide. Each rental car is fully inspected for safety and well-maintained so that you can head out on your journey with confidence.
To drive in New Zealand, you must be at least 18 years old. The daily rate for a hire car at Auckland Airport depends on your age. By entering this information when you book, we can provide a more accurate rental estimate. Some restrictions apply to car rentals. If you are under 21 years of age, please call us for more information.
Frequently Asked Questions
Where can I stay near Auckland Airport?
How much does it cost to hire a car at Auckland Airport?
We offer one-way and multi-island hire promotions and seasonal specials. Take advantage of our deals to save more on our airport rental cars. Be sure to rent a car well before New Zealand holiday periods, as demand is high and prices may increase.
Where to drive and what to do near Auckland Airport?
Once you've collected your Pegasus rental car, it's time for a road trip to explore the largest city in New Zealand! Go driving through this world-famous location on the North Island to discover gorgeous beaches and native bush walks all in one day.  Take your Auckland Airport car hire to the Villa Maria Estate for an exquisite lunch accompanied by award-winning wine.  Afterward, head back down the road to the Strawberry Farm for mouth-watering ice cream.  Don't forget to check out the Auckland War Memorial Museum in Auckland Domain.
Golf enthusiasts can head out to the 24-hour driving range, JK's World of Golf. Do you fancy a waterfront walk? Just a 10-minute drive north from the airport is the Kiwi Esplanade at Mangere Bridge, with stunning views of the Manukau Harbour. Or take a drive into Newmarket to search your favourite shops for a great deal!
Where are the best places to eat near Auckland Airport?
Auckland's airport boasts a wide variety of coffee shops and eateries at the international and domestic terminals. You can also find many cafes, restaurants, and takeaway shops along Richard Pearse Drive on your way to the CBD.
Where can I refuel with petrol near Auckland Airport?
Waitomo Mangere service station is on the left-hand side of Richard Pearse Drive after you pick up your rental vehicle. Or, turn right onto George Bolt Memorial, where you'll find Z petrol station on Tom Pearce Drive.
How to get around Auckland Airport
To travel between Auckland's domestic and international terminals, use the free shuttle bus.
Ready to explore town? Follow these navigation steps from the Pegasus depot to the CBD:
Turn left onto Richard Pearse Drive
Turn right onto Ascot Road
Turn right onto Kirkbride Road/Route 14
Take the State Highway 20A North ramp to the City Centre
Merge onto State Highway 20A, then onto State Highway 20
Take exit 24B for State Highway 16E towards the City Centre
Merge onto State Highway 16
Take exit 2A toward Wellesley Street
Turn left onto the Wellesley Street Bridge
Continue onto Wellesley Street East
Make a slight left onto Mayoral Drive
Turn right onto Wakefield Street
Turn right onto Queen Street
What is the driving distance between Auckland Airport and the city centre?
Driving from the Auckland Domestic or International Terminal locations to Auckland City Centre takes 25 to 30 minutes along State Highway 20.
Reviews from our Auckland Airport customers
Enjoy New Zealand hospitality from the skilled team at Pegasus. We are privileged to have served locals and visitors for almost 30 years. 100% NZ-owned and operated, our company is known for unbeatable customer support. Along with great rates and dedicated car rental service, one of our competitive advantages is extensive local knowledge to help you make the most of your Auckland visit. Check out what our customers have to say below:
Book with Pegasus now
We're a nationwide car rental company with 15 locations on the North and South Island of New Zealand. Your City of Sails adventure awaits with Pegasus hire cars from our Auckland Airport location. Search for your vehicle for rent online or via phone today to chat with our friendly customer service team for help.
We look forward to seeing you soon in Auckland, NZ!