Auckland Airport Owner Warren has a Rich History Within the Car Industry
After a long history in the car industry Warren Bradnock has seen it all. On leaving school in 1989, his first job was as a car groomer at North Shore Mazda. Later he was approached by a company that was involved in car leasing and the supply of Japanese imported cars to the local Hospital Board.
This expanded Warren's industry experience considerably as he became involved in all of facets – painting, panelling, upholstery, grooming, organising the cars' servicing, and the delivery of cars. When the company grew to include rental cars and a car sales yard, Warren progressed further into the accounting side and managing the rental car operations and car sales.
At this time, second tier rental cars were still in their infancy and, in order to form a chain and have the ability to do one way hires, a countrywide group was formed which consisted of the company Warren worked for, Apex Rental Cars, Omega Rental Cars, and Shoe String Rentals. Warren worked his way up to Operations Manager, leaving after 12 years to begin his journey with Pegasus.
Initially Warren was approached by the Pegasus Rental Cars Auckland Airport branch to assist the new owner, who was inexperienced. Ultimately, the business was on sold to Warren who was ready to step up to his next challenge, as the Owner/Operator of the Auckland Airport branch himself, in February 2003.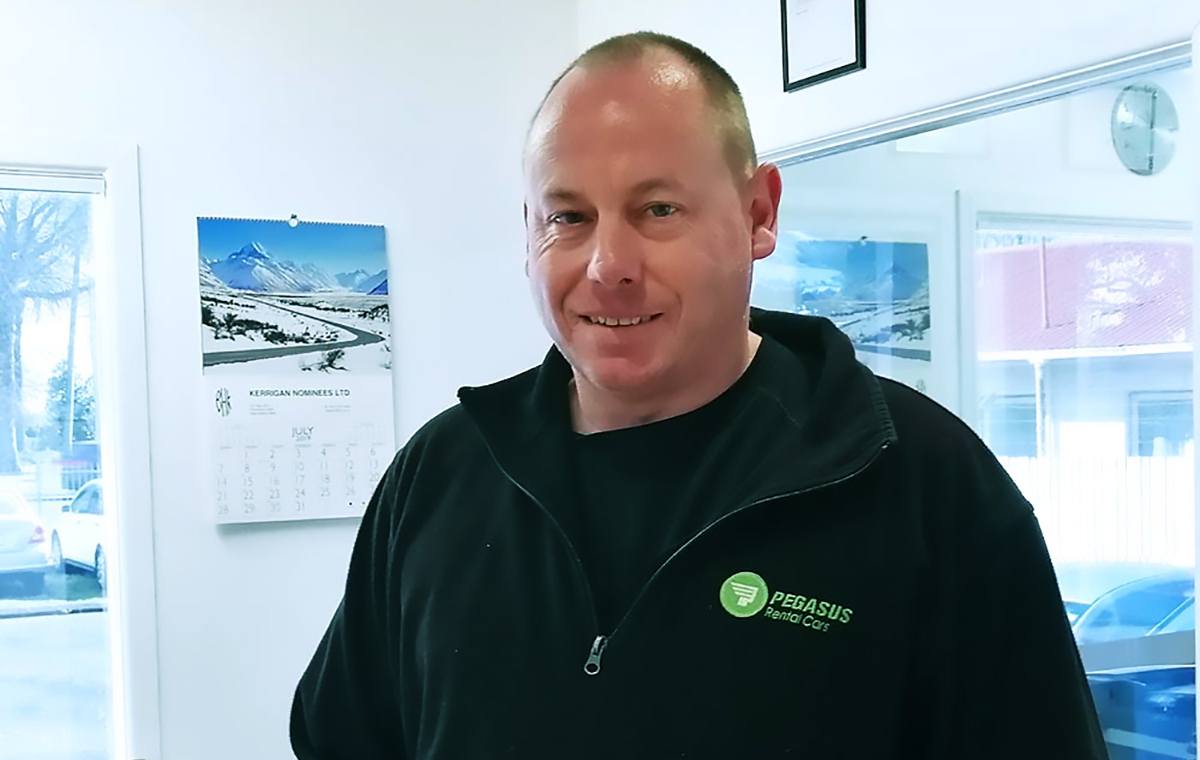 Warren Bradnock Owner/Operator Auckland Airport Pegasus Rental Cars
When he first took over, the industry was very different to what it is now. It was very labour intensive and most systems were manual. There was no online booking or online pricing. Everything was done on the phone or fax and later email. Rental agreements were hand written and a manual 'plot sheet' was used which had all of the vehicles listed and each reservation was hand written onto the sheet. Moving bookings around required a rubber and a pencil.
The Pegasus Franchise gradually expanded from the initial 9 branches to now 14 across New Zealand. Warren has seen different franchises change hands but the friendships remain. The annual conference is always looked forward to with the opportunity to catch up and share ideas with the other owners and operators from across the country.
Over the years, Warren has built a large and loyal client base, with repeat business being his bread and butter. Often clients, particularly international ones, hire for months at a time and Warren has developed some great personal friendships. Warren has even received an invitation for a wedding in America.
"Our clients are very important to us and each visit is normally a good catch up with that is happening in their world and ours."
A few years ago Adam Parore, the former New Zealand cricketer, purchased the Pegasus brand. Adam is very good at recognising and utilising the strengths of individuals in the group and often asks for advice within the Franchise team. This progressed into the formation of the Pegasus Management Team of which Warren is a part of.
The Auckland Airport branch team is comprised of Warren, Leigh, the Operations Manager, who has an extensive background in the Hotel industry, Greg, from the banking industry works part time on Fridays and Saturdays and William, the part-time car groomer, who is completing a property degree. During the summer season, it is necessary to also have a full-time car groomer.
When Warren isn't busy with Pegasus, he will be with his son and partner or enjoying his hobbies of welding and fabrication, restoring caravans and boats, motor racing or watching rugby league.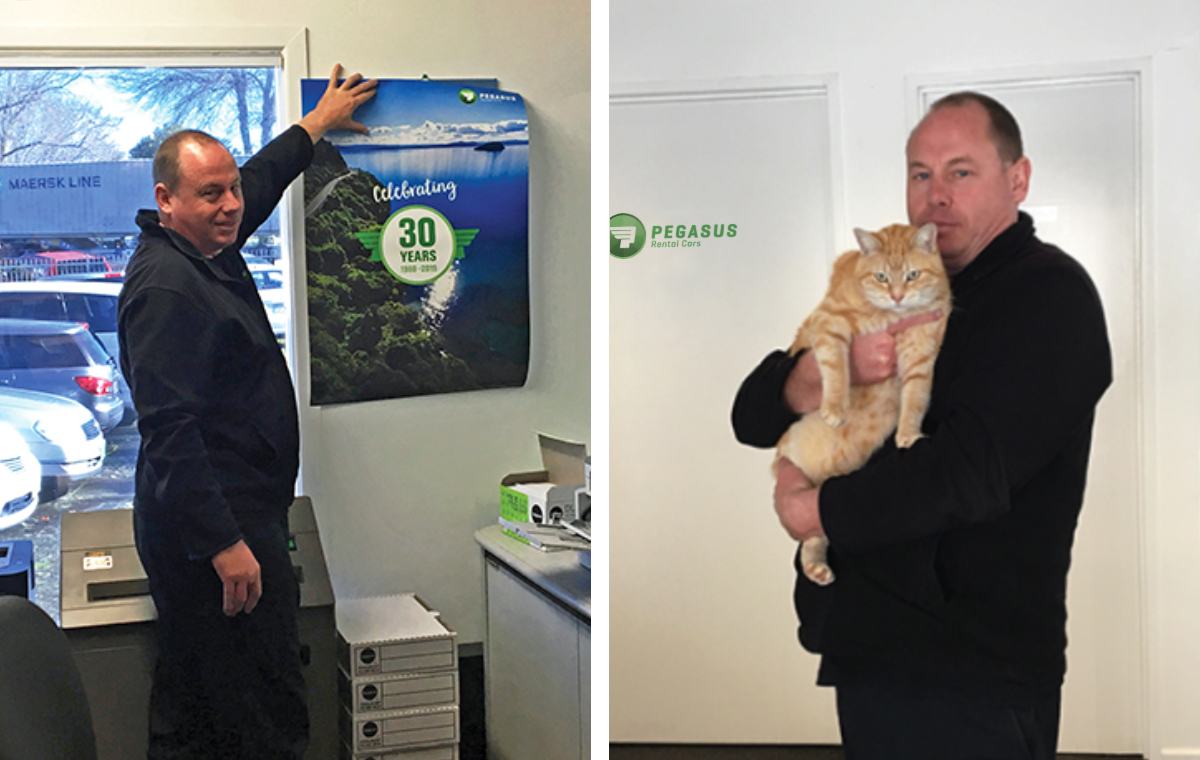 Warren finding a good spot for our 30 Year Anniversary Poster. The Resident Cat with Warren